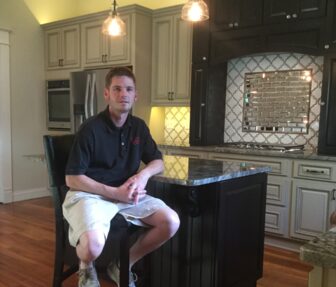 Merrell Construction & Concepts
is quickly becoming a staple in Louisville's home remodeling industry. With a very keen eye for color and design, we can help you visualize and create the sanctuary you deserve. I will work directly with you in building a relationship both personal and professional while ensuring your needs and expectations are not just met but exceeded. We understand the importance of "word of mouth" advertisements and strive for complete customer satisfaction from start to finish. We will ensure your project and home are kept in a clean and orderly manner throughout the entire process. Give us a call and find out why past clients speak highly of their remodeling experience.
From an early age, Nathan Merrell has shown an interest in home building and remodeling. He used to walk around construction sites of neighborhood homes in wonder and awe with the possibilities and imagination of a young entrepreneur.
As a student of Trinity High School, Nathan took an interest in the art program where he developed skills in an array of different mediums as well as color combinations which would serve him well down the road when aiding cliental in the design process of their own homes.
Nathan graduated with an architectural technology degree gaining knowledge of the process by which homes are constructed with an emphasis on codes and regulations. While in college, he acquired a better understanding of spatial concept through renowned American Architect Louis Sullivan's 'Form follows function.'
Today Nathan uses his background and acquired skills over the years to help homeowners visualize the end result they are looking to achieve. He ensures the homeowner is engaged and informed through every phase of their remodeling project and seeks not just to meet but exceed their expectations.